Dabico FMT is a privately owned company with more than 50 years of experience in designing, manufacturing and delivering innovative passenger handling and operational support systems for airports and seaports worldwide.
All research & development, manufacturing and the direction of the sales & marketing occur at Dabico FMT´s corporate headquarters in Trelleborg, Sweden.
Dabico FMT has sales offices located in Europe, North America and the Middle East. In addition, Dabico FMT also works together with a number of appointed partners and agents worldwide.
Quality and the Environment
Dabico FMT is focused on the production of products which yield a long life-cycle using components which are highly reliable and produced by reputable well-known brands in order to meet the needs of our modern society and in particular to respect the requirements for sustainability. Dabico FMT is organized and directed in order to reduce the company's environmental impact at every stage. Environmental issues are integrated into all aspects of our daily work including all of our production and logistics programs. Dabico FMT is certified to the ISO 9001 and ISO 14001 International Quality and Environmental Standards.
FMT was founded in Lund, Sweden.
The First FMT Passenger Boarding Bridge was installed at Malmö Sturup-Airport in Sweden.
FMT relocated from Lund to Trelleborg, Sweden.
FMT invented the first Visual Docking Guidance System (VDGS) for Aircraft Parking and Ground Guidance.
FMT introduced Automatic or Semi Automatic docking of Passenger Boarding Bridges without the need for a bridge operator.
FMT expanded to be accommodated in larger facilities at Trelleborg.
Inauguration of World first Vehicle-Free Ramp System and Over-the-Wing type bridge at Stockholm-Arlanda Airport in Sweden.
First Passenger Boarding Bridges with glass walls in the world introduced by FMT.
FMT invented the first laser based VDGS.
The FMT Apron Management System was introduced.
Introduction of FMT Stand Management System Atlantis. FMT MTB type apron drive developed.
Installation of first Mobile Elevating Gangways for Cruise Ships at Port of Miami, FL. USA. Patent application submitted.
The first Over-the-Wing bridges for B737 aircraft installed at Austin and Dallas airports, Texas, USA.
FMT installed the first Mobile Telescopic Bridge at Port Everglades, FL, USA.
APIS R Aircraft Individual Identification using the transponder is developed and patented.
APIS R Aircraft Individual Identification using the transponder is developed and patented. FMT opened a Sales office in Dubai, United Arab Emirates.
Sales office in China opened.
MTB Generation III is introduced.
MTB Control system Software Gen III introduced.
FMT sells docking systems division.
Let's discuss
a solution for you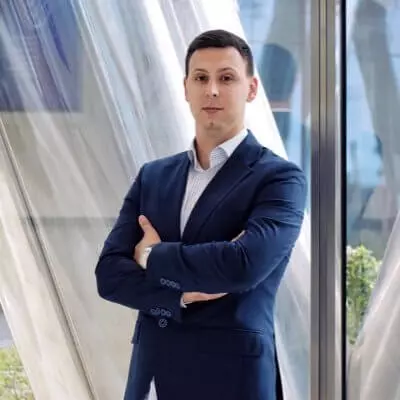 Edwin Lisowski
will help you estimate
your project.
Schedule an intro call to get know each other better and understand the way we work